Welcome! My name is Heidi, and I'm a birth photographer in Nottingham, UK. I'm also a doula, and I found when attending births that parents would hand me their camera asking if I could capture a photo for them. Those first moments of welcoming a new baby are precious, and I wanted to be able to offer parents much more than a quick snapshot! So I attended a special training for birth photographers, and now offer my services as a doula, photographer, or both.
Each month I take a limited number of clients, so please contact me to find out if I'm available around your due date. We'll discuss what types of photos you would like and go over some tips to make your pictures even better. To hold your spot in my schedule a deposit is due when we sign our contract. The balance is due when I go on call for you, which is generally from 38 to 42 weeks gestation. When early labor begins please contact me, and I join you once active labor is established and stay throughout your labor, whether at your home, birth center, or the hospital. I remain around 1 to 2 hours postpartum, making sure we document those first greetings and snuggles as you welcome your little one. Photos can be as discrete or candid as you would like!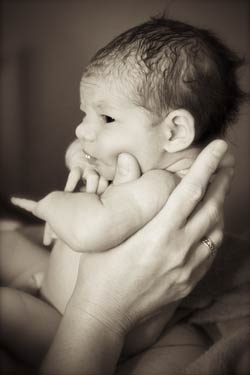 You'll receive your digital images with a photo print release so you can include them in your baby's album, on birth announcements, or in your nursery. Around 20 to 30 images will be posted in an online gallery for you to share with friends and family within the first week after the birth. Your edited photos will also be provided on a flash drive in both watermarked web size and large files with a print release. You'll receive around 80 to 100 images, depending on the circumstances of your birth.