Originally posted April 2012:
Because I had a string of FAST labors with my clients (including first time moms) I got very nervous about the idea of missing a birth. When parents call my reaction is to leap up, take a super fast shower (never know how long you'll be gone!) and nurse my baby and race out the door. However, I wasn't stopping long enough to really ask questions on the phone when the dad calls (because it's always the dad who calls me – moms call in early labor, when dads call then I know it's active labor.) Instead of saying, "How is she doing? How are the contractions?" I was just finding out where they were (home, birth center, hospital) and jumping into my car. Sometimes that's the wrong approach! I've since learned that I need to ask a few questions to assess things before I head out – can she talk through contractions? Between contractions? Neither? How long are they lasting? How close are they? Does she want to labor at home or head into her birth place now? Have they called their care provider and what did they say? Do they want some comfort suggestions or labor tips, or are they ready to have me come right now?
First, here's a post I shared about helping parents decide when to go to their birth place. But how do you know when it's time to go to the parents?
Generally by the time dad calls I've already talked (or texted) with mom to share labor ideas, and when I get the call it's because they are ready for me to come over. Which is fine – I want to be there when the couple feels they need my support, whether that's early or late in labor. But sometimes parents feel more comfortable laboring at the hospital instead of home, so they head in early. The risk with that is the sooner you get to the hospital, the sooner you are starting vaginal exams (and infection risk goes up) and the sooner you're on their clock (they can get antsy if you're laboring "too long" or not dilating quickly enough for their tastes – then they start talking pitocin.) If moms want a natural birth then being in the hospital too early can be a serious impediment to that goal! If parents arrive not in active labor then the hospital may send them home, or will send them out to go walking and return for checks/monitoring. That's absolutely the parents' choice if they want to labor at the hospital, but in those cases I'm often not needed yet as contractions are still relatively mild.
During prenatal visits I'll ask if they want to labor at home or the hospital, and explain that if they opt for the latter then I will come join them when they're in active labor, but that's not necessarily right when they arrive at the hospital. In fact if parents call me saying they're already heading in (and I've asked the questions above and realize it's still early labor) then I'll ask them to let me know once they are settled and have been monitored so I can find out how things are progressing. That means they'll spend some time laboring at the hospital without me. The reason I do this is because by the time they really DO need my support, I don't want to already be exhausted because I showed up at the hospital in the middle of the night and labor didn't get serious until the next afternoon. If they're still in very early labor and the hospital is sending them home then it's better for me to wait to join them, and instead to offer some more coping tips to help mom get some rest. If I go right away and I'm not needed yet then when my support is most needed I'm running on empty and not able to offer them my best support. Of course there are situations in which parents have a long labor regardless of location, and I'll be there for the long haul! But I don't want parents to wear themselves out in early labor when they could be resting at home instead of walking the halls of the hospital, so I encourage them to stay home until labor is really kicking up.
If moms are having an induction then I don't go to the hospital immediately, as again it will take several hours for them to be checked in and to have the process started. There are exceptions, of course – sometimes moms are being augmented (instead of induced) and the tiniest whiff of pitocin or having their membranes ruptured will kick things into gear very fast! Depending on circumstances I'll stay in touch with the parents as they check into the hospital (and go by to check on them if they are nearby) but I'll wait until they are well into labor before I join them.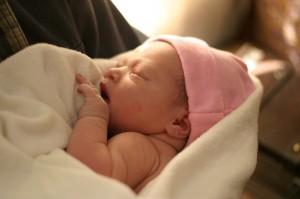 So, while my first response as a doula is to want to race out the door the minute someone calls, I've learned it's best to ask a few questions first and sometimes it's best for me to wait! When it's truly time for me to go it's likely I'll still have plenty of time to get there before the baby arrives. I hope. This little girl did arrive 15 minutes after I got there, so that was cutting it pretty close!