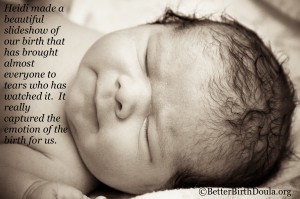 Whenever a client takes the time to let me know how I was able to assist at their birth I am so grateful. While I absolutely love the chance I have to do this work, hearing from parents that I made a difference in their birth experience is truly validating – it lets me know that what I do really is helping! I treasure each and every testimonial I've received, and I always ask clients before I share their words on my site.
A recent photography blog I read suggested putting these sweet words onto photos when sharing them on your site – if a picture is worth a thousand words than a glowing review from parents on top of a gorgeous photo is worth even more!
I'm planning to share a few testimonials I've received to let you see some examples of how a few words can be added to images to convey even more emotion. THANK YOU to each client who has allowed me to be part of their special day and to share their kind words.