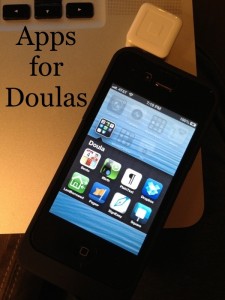 I didn't have a cell phone when I first started attending births. In hindsight I'm not sure how I managed that! Fortunately through a HUGE blessing we were gifted an iPhone and now I'm finding a million different ways in which it's handy for births. Remember that depending on your data plan these may push you over the limit so be sure to check before you start playing. Here are some I love:
* The phone contact list, obviously! I include clients' names, both parents' phone numbers (as dad is always the one to call me when they need me in serious labor), address, and due date right under the name in my contact list. When I go on call for someone I change the ringtone so I know it's a term mom calling and I need to rush to grab the phone.
* Calendar. We use Google Calendar and I have a separate "doula" category/color. I list all appointments with clients AND the window of time I'm on call for them. It's synced with my husband's so he knows exactly what we have going on and tries to avoid scheduling things during my on call period.
* Texting – I only recently learned how to text, which makes people laugh. But it is a nice way to stay in touch with clients when I don't want to interrupt them with a call but want to keep updated on their early labor, how their prenatal visit went, etc. It's also incredibly useful to have some of the care providers and fellow doulas on text so I can ask them quick questions, give updates, get ideas, etc. I admit I have texted during births to get suggestions from my back up when my fatigued brain needs a boost. The encouragement of a better rested & clear thinking doula is a huge, huge help!
* Maps, so handy to click on their address in my Contacts list and get directions to their home or birth location. It reassures my husband that I won't be thrown off by construction and driving around downtown Dallas lost (which has happened, pre-cell phone.)
* Plain text, where I keep notes during prenatal visits, my birth checklist to review what I need to grab before I head out the door, and my labor tips. This syncs with Dropbox so I can view it on my computer as well. I also use Dropbox to get images to parents after the birth.
* Pandora app, if clients have forgotten or not made a labor music playlist.
* The iBirth app is great – contraction timer, video reminders, words of affirmation, visualizations, position ideas, etc.
* The camera/video, which is surprisingly good on this camera! I prefer Camera+ for stills but I do like the video option on the regular camera app. I've used it to snap baby pictures when I didn't have my real camera and was impressed.
* My bank app, which lets me deposit checks from clients using my phone. (Though Kit is also setting me up with Square to accept credit cards with my phone.)
* WordPress app, which lets me update this page! I can even snap a photo of the baby and upload it straight to my page, though I prefer to use the real camera pictures for that.
I'm trying to go as paperless as possible so now the intake forms, birth history, and birth plan worksheet are all on my website & phone. When clients fill out the paperwork it's emailed directly to me and I save it in a password protected spot. That way I can review them on my phone, ask for further clarification during our visits, take notes, and have their birth plan right there when it's labor time using the Dropbox app. Having all of these tools in my phone has made life so much simpler! Throughout the labor I keep the phone close to take notes for their birth timeline, glance at iBirth for ideas, etc. It's been a wonderful tool!
Updated:
* I use Bento to track client info. I can customize it and it's synced between my phone, iPad and computer. My categories include baby's name, parents' names, due date, days off (early/late), birth weight, care provider, location, # child, delivery type, when our visits are scheduled, who referred them to me, fee, deposit paid, etc. I can see files individually or all at once in a spreadsheet format. I can also view ALL my clients at once, upcoming births, etc. I don't include last names, contact info, etc. as Bento is not password protected (though my phone/laptop both are.)
* I'm using Dropbox for a variety of things, such as keeping my files accessible when I'm away from my computer. I also use Dropbox to send the digital files for photo clients, their print release, and the digital copy of their birth timeline.
* When loaning out materials I now use LentBorrowed app. It lets me see exactly who has what materials from my library and even sets reminders so I am notified before my next visit with the couple to remind them about returning items.
* The Facebook Pages app lets me update my business page with info without having to go through my personal Facebook page/app. Not crucial but just easier than trying to switch profiles to post stuff.
* JotNot Signature app is a PDF signing app. It's easy to convert your documents (contracts) into a PDF then drop them in Dropbox. From there on my phone I have the option to open them in another app, pick Signature and there is is! You can sign them on your phone/iPad! I have a stylus but you can also just use your finger. You click options – signature, date, checkmark, etc. You can save your own signature so it's easy to click and drop onto the contract, then have clients sign. It also allows you to email the document straight from your phone to them. It's been FANTASTIC and then I have digital copies of all my contracts right there on my phone. Hooray!