You've probably seen a yoga or "birth ball" – they come in a variety of sizes (usually 55cm up through 75cms) and can be purchased at Target for under $10. They're fantastic for assisting in various positions in pregnancy and labor. A peanut ball is similar but instead of being round it's squished flat and longer – like a peanut!
One study found that putting a peanut ball between a mother's legs when she had an epidural opened up her pelvis and had significant results:
The results were compelling. Those who used the ball decreased the first stage of labor by nearly 90 minutes and the second stage by 23 minutes compared with a control group that did not use the ball.

The real payoff came through lower C-section rates. The C-section rate for the group of women who used the ball was 13 percentage points less than for the group that did not use the peanut ball.
Your hospital may not have a peanut ball but it's an inexpensive investment that may have priceless benefits! You can purchase one at Walmart or Target in their exercise section near the yoga balls and they are around $20. Moms, if you know you plan to have an epidural then go order a peanut ball!
Read more: Article here.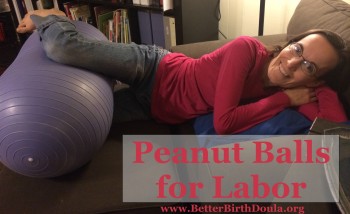 This is the side lying position demonstrated, sorry for the lovely iPhone picture of me. While this looks like a somewhat awkward position, it's actually really comfortable!
Update: For moms not having an epidural the peanut ball can still be beneficial in labor. If you're side lying the peanut ball can help keep mom's pelvis open and help her feel more comfortable. I now keep the peanut ball in my car for all births and bring it in if needed.
Update II: I used the peanut ball at a hospital birth and it was GREAT! The nurses were curious and I explained more and they thought it was a fabulous way to help moms with positioning while laboring on their side. I got some funny looks walking into the hospital with it but once I explained you could see their expressions change with understanding and, "OH, that's a great idea!"
Update III: The peanut ball has also been handy if mom is on the bed on all fours and her arms are tired. It's a good height to cover with a blanket or towel and let her rest her upper torso on, instead of hurting her wrists.
Update IV: Andrea wrote a wonderful and thorough article about the use of peanut balls and you can read it here. She also includes several images of different positions you can use which are much better than my snapshot above.