I realize the humor in ME offering doula tips, as I'm a brand new doula myself.

But I've recently had the chance to visit with a couple people interested in becoming doulas, and I love being able to pass on the tips I've gathered from veteran doulas!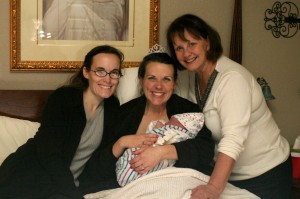 * There are several options for certification programs, with varying requirements and prices. I went with Birth Arts for a variety of reasons, and I've been very happy with the program. They offer discounted training for Operation Special Delivery doulas and there's even a scholarship option. Do you need certification to be a great doula? No, but I have found that parents ask about your training and it's nice to be able to assure them you've gone through a certification process. Plus you learn so much through the training and it helps you feel much more prepared stepping into a birth.
* Pick a business name. You'll need it for everything, from your business cards to your website to listing yourself with Google Places. Started pondering now, it can be surprisingly hard to decide! Google names you're considering and if one you have is taken, consider variations. Be careful you don't take something very close to the name for a local doula – that can cause some unpleasantness and you don't want to start off on the wrong foot with your doula community.
* Having a website can be a big help – in fact I would say it's crucial. There are free options for hosting and you can even set up a blog to just get yourself started. Buying your own domain name (renting it, really – there's an annual fee) is as cheap as $15/year. That gives you rights to that name, but you'll still need a website hosted somewhere. I've heard good things about Weebly, though I've no personal experience with them. You can either have a business page (all your info, no updates needed) or a business page and blog (or just a blog, of course!) I like the blog option because I think people interact more with your page and are more likely to return to your site if you have extra info and updates. The more people interact with your site, the more likely they'll remember you and refer others to you! As you can see I set up various pages within my site to have my business info, and then here I can post blog updates whenever something comes to mind. I also like having a photo gallery, though that brings up photo release issues.
* Create a business Facebook page. It's simple, easy, and a great way to get your name out there. Here's mine and once you get 25 "Likes" you can have your domain changed to have your page name (instead of the weird number URL showing.) You can post updates, share links from others, and link back to your website.
* List yourself with Doulas.com and Doulamatch.net, which are both free. You'll want to keep your calendar updated there, the more recent your activity on the site the higher you'll show up in their search results.
* Connect with other doulas! My doula mentors have been invaluable – I'm so thankful for their willingness to share their wisdom. I personally am more likely to refer people to the doulas I know, so when I cannot take a birth I'll share names of other options. I've also gained clients through other doulas referring them to me. It's important to find a doula to back you up, too, so get to know your fellow doulas!
* Connect with the local midwives, OBs, birth centers, and childbirth classes. Ask if you can leave your business card there. Every childbirth class instructor I've spoken with has been very happy to let me come sit in on their class (which is part of your training requirement.) Every time they've also invited me to introduce myself and explain the role of a doula. While you are a student and offering discounted services you can find many willing clients through these classes! Plus the other birth professionals are more likely to refer parents to you if they've met you in person and gotten to know you. I've also gained doula clients in this way, and it's always nice to hear that someone spoke highly of you to a new client.
* Order business cards. I got 500 from Vista Print for around $8 (without their text and the back, and that included shipping.) You'll want to have these to share with prospective clients, leave at birth centers and childbirth classes, etc. I purchased mine before I was certified so I simply listed myself as a "Birth and Postpartum Doula." By the time we meet the parents always know that I am certified, and it saves space on the card to leave that part off anyway! (Update: I've since switched to the mini Moo business cards with my photos on one side and business info on the other.
* For my required readings I was able to get all of my books from the library (local or interlibrary loan), borrow them from the birth center or other doulas, or pick them off of Paperback Swap.
* To gather ideas for your doula bag look here to see inside my doula bag. If you look to the right you'll see a category for Assignments – those are all things I worked during my training.
* Stalk pregnant women! I'm kidding, don't do that. For my training program I needed to attend and receive evaluations from five births. I was fortunate to have some close friends willing to let me come practice being a doula with them, but it's also good to work with new people. The dynamic to start from scratch with a doula client vs. working with someone you know well is very different. I think it's good for doulas to charge something for a birth they attend, even if it's just a token amount. We all value things when we make a sacrifice for them, and committing financially seems to make people take things more seriously. I've fortunately never had this problem, but I've heard from other doulas who offered free services and then had problems with clients taking advantage of the situation or the opposite, not even calling them when they went into labor. For a doula needing births for certification and putting in time and effort to establish a relationship with someone during the pregnancy, not being called to the birth can be very disappointing. If someone has paid for your services I think that's less likely to happen! Being a doula has very real costs, from your investment in training to your supplies, paperwork, website hosting, gas for visits, babysitters, food while away from home, parking fees, etc. Even during training I think it's wise to charge enough to cover your own expenses, and to increase your fee with each birth as you feel more experienced. (Update: I think it's wise to determine what your goal fee is for that first year – what do you feel you are going to charge as a certified doula? Then offer a discount off of that fee during your training. Rather than starting to offer your services at $300 then eventually doubling your price I think it's wise to set your fee at $600 and offer a 50% discount off your certifying births. It prepares people to understand your eventual price and to establish what your value is, rather than thinking a doula is worth "only" this lower fee.)
I'll add more as I think of other tips I've learned!
Some more thoughts – here's my post on setting your fee as a doula.
Here's my post on tips for playing doula, for new doulas or any support person.