I recently learned about, ordered and LOVE the 6 Piece Pocket Uterus Baby and Pelvix Mini Model Set
.
Here it is: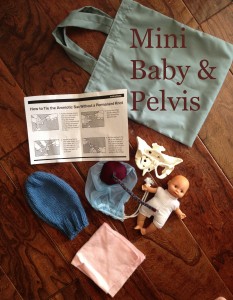 It includes a carrying bag, pelvis, baby doll with hook for umbilical cord, pink swaddle blanket, placenta/amniotic sac, blue knit uterus, and instructions for tying amniotic sac for easy baby delivery.
While I knew this would be helpful when teaching childbirth classes, it's also been a wonderful resource during prenatal visits with doula clients. The pelvis allows me to show different positions babies can be in and how that can impact or stall labor. I'm very visual, and I love being able to show clients in class or prenatals how everything works together – the placenta and amniotic sac, the baby attached, delayed cord clamping, the uterus contracting, dilating & effacing, baby's station in relation to the pelvis, and so much more. It's a fantastic visual aid – though my kids also think it's a really cool toy, they're arguing over whose turn it is to play with the baby and placenta.

It's a small size, which is less ideal for large group classes but it can be passed around in groups. For small classes and doula visits it's perfect, and it all fits inside the small bag. The set isn't cheap, but it's less expensive than some of the life sized pelvic models I've priced – and it includes so much more.
If you order it let me know what you think! (Disclosure – the link above is an affiliate link, it will take you to Amazon.)