Originally posted April 2012: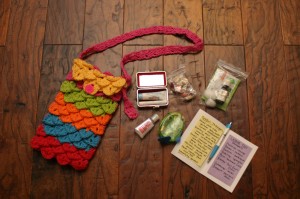 I carry these in my mini-doula bag, tucked inside a small notebook where I record the birth timeline. These are handy for me to refer to during birth, especially if things are going long and we're searching for ideas. I fit these onto two cards and I plan to laminate them when I take in my scripture cards.
Update: I actually have these in a PlainText doc on my phone, as I'm going as paperless as possible. Either way, having the info is good!
COMFORT TECHNIQUES
Visual:
- photo to focus on (have them bring one they love)
- video to watch
- partner's face
- baby's homecoming outfit
- candle flickering
- visualization
Auditory:
- music
- sing
- vocalize/hum
- white noise
- instrument
Tactile:
- massage
- dance
- cold/heat packs
- counterpressure
- stroking
- warm blanket
- tub, shower
- cold washcloth
Olfactory:
- light candle
- essential oils
- drink
- cologne
- lotion
Taste:
- candy
- food
- cold/hot drink
Breathing:
- guided breathing, in through nose and out through mouth
LABOR TIPS (from Sears) – PROGRESS
P – position change
R – relax and release
O – output (bathroom)
G – gravity, get upright
R – rest between contractions
E – energy (food & fluid)
S – submerge in water (tub or shower)
S – support, emotional and physical