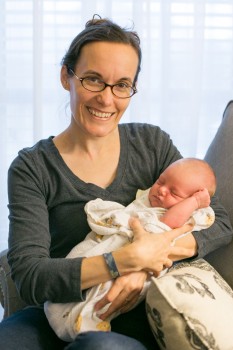 I've occasionally heard people say they would love to be a doula because it's so fun to hold new babies. (Which makes me laugh and laugh… for so many reasons. There is so much more to doula work.) Sometimes I do have the privilege of holding a new baby – but it's usually NOT at a birth. In fact I have a policy of not holding a baby at a birth unless the parents ask me to, either because the partner is helping mom to do something and they need an extra set of hands or because they've asked for a photo of me holding the baby. There are some times in which I was asked to hold the baby for longer than that, but it was in extraordinary situations – if the partner wasn't present, if something was happening quickly and mom needed her partner's care during a medical situation, etc. But immediately after birth that sweet new baby needs lots of skin-to-skin with ideally mom but if she's not available, then with the other parent (also skin-to-skin if possible.) Grandparents or other family may be around and want to hold the baby for a few minutes and a photo, siblings may be there, but we try to get the baby back to mom for as much time as possible. It's good for baby with regulating body temperature and adjusting to the world, it facilitates bonding, it helps with establishing breastfeeding. The doula should NOT be holding that new baby unless there is something else going on preventing a parent from holding the baby.
However, at the postpartum visit (which may be a few days to a few weeks after the birth) I may be asked to hold the baby. Even at postpartum visits I don't ask – I wait for the offer. Parents may have hesitations about ANYONE holding their baby and that's okay! I'm not offended if I don't get asked. I know as a first time parent I was very cautious about sharing my baby. When I am asked I try to always get a picture, as many parents request that for their baby's album and I love to have it for my own album.
As a midwife assistant I do hold the babies at times, but it's very brief and only for things like weighing the baby or demonstrating diaper changes or swaddles if there's a question. I check baby's vitals while they are being held by a parent or grandparent. There have been a few occasions when I've had the unique honoring of helping pass a brand new mom to their mother's arms when the position they birthed in made it tricky for them to reach down and get their own baby and the midwife needed an extra set of hands, such as mom birthing on all fours and the midwife passing the baby up to mom between her legs. But those situations are so rare that I can recall vividly that experience of holding a baby only seconds old and passing them onto mom's chest as she gets settled. It is extraordinary.
HOWEVER, as a doula I do not hold babies unless I am invited, and then they need to go right back to momma's arms! While I know how sweet those little snuggles are, as a doula my job is about encouraging and supporting a new family. The first couple hours of the baby's life pass in the blink of an eye, and as much of that time as possible I want the baby to be bonding with their parents. If I'm lucky I'll get a cuddle at our next visit.

(Photo is me at recent postpartum visit with precious new arrival.)