I often see on my various birth groups questions from new doulas about finding clients. Do you go looking for them, do they approach you, is it primarily online or personal referrals? Especially after my recent very busy May, I was asked this several times so I've been pondering.
The amount of doulas in any area can vary widely – in my town of around 120,000 I'm aware of ten or so doulas. In the Dallas-Fort Worth metroplex we have over 170 in just our Facebook group, so I'm assuming there are well over a couple hundred doulas. I've spoken with doulas in other parts of the country who may be the only doula they are aware of for a couple hours either direction! The downside of so many doulas is, of course, competition for births. (I believe there are far more births than there are doulas so I'm not worried about competition!) There are so many perks of having a lot of doulas in your area – they are sharing with the community what doulas are which increases awareness for all of us, they are mentors and referral sources for you, and it can provide a strong network of support and education. So I think lots of doulas is a GOOD thing and I'm thrilled to be able to help mentor new doulas, even as a newer doula myself.
But this does raise the question of finding clients when there are so many options and you may feel like you're competing. I've been looking at my files wondering where most of my clients have found me and here's my compilation of random advice.
* Over half of my clients from this year found me online. Either through a doula search site, googling and finding my site, local sites (like the birth center), my Facebook page, etc. They all visited my personal site here before contacting me and most told me over the phone or by email that they had already decided to hire me before we met. (I still suggest we meet in person before they send in their deposit! Maybe they won't like me in person.) I try to make this site useful for parents whether they are interested in hiring me or not – I want them to feel that coming here helped them learn more about their options. I also hope that my site gives them a glimpse of me, my personality, my thoughts, and my style as a doula. That ideally helps them feel more comfortable once we do meet.
* Having a website is pretty crucial as a doula. A static site is like an online business card – good for helping them contact you, but not necessarily something they'll return to over and over. I wanted to include a blog on my site so I can continue to share links, articles, tips, photos, etc. I want my site to be genuinely helpful! I hadn't anticipated my site would be so useful to new doulas but that's where most of my traffic is coming from. And that makes me happy every time a doula contacts me to say thanks for sharing my journey as a new doula. For parents I want this site to be equally helpful and from the marketing standpoint, giving them a reason to return to my site helps keep me in their mind. When they have an expecting friend maybe they'll remember me and share my name! (I'm giving away my marketing secrets now to parents reading this. I try to be open about these things!)
* The rest of my clients came through word of mouth – referrals from someone they know. That could have been through a church or community group, a friend, another client, or a birth professional. This is where it can be a challenge for new doulas – it's definitely outside my comfort zone to feel like I'm marketing myself, but if people don't know I'm a doula then the chance of getting a referral from them is pretty low, right? I don't think you need to hand out your business cards to everyone you know, but as a new doula you're naturally excited and it's okay to share that enthusiasm with people! Let people know what you're up to, if they have a birth related question or something you can help with then feel free to email them a link to your site and a helpful post.
* Don't take it personally if you know a pregnant woman and they don't ask you about being their doula. I don't expect acquaintances or friends to hire me as their doula, but I'm thrilled to help them with resources, answering questions, sharing books, etc. If they are interested in having a doula I let them know I'm happy to share names of doulas with them – I generally don't offer my services to people I know because I don't want them to feel obligated or awkward. You need a doula you can be completely comfortable with and hiring someone you already have a relationship with is a very personal decision. But that can also backfire – I've had friends approach me saying a mutual acquaintance wondered if I was willing to work with them as I hadn't brought up my doula services and they wondered if I wasn't willing to work with acquaintances/friends. (I am, but I let them approach me about it!) Either way, don't be offended if someone doesn't want you as their doula.
* This year has been very busy with doula clients, but I've worked with over double that number of moms providing information, referrals, and resources. These are moms who have not hired me as their doula, but I've spent hours on the phone with them offering breastfeeding support, links to answer questions, talking them through newborn challenges, etc. Every doula I know provides a LOT of support to moms with absolutely no expectation of being hired as their doula – we help for free because we want to help. I do this happily and gratefully, knowing how much I've been blessed by moms mentoring me on my own journey. Each doula has to decide for herself where she sets her boundaries as far as time invested in her paying – and her volunteer – doula work. But each call or email has taught me something new and allowed me to help a family. From a marketing standpoint, it's also smart. (Sorry to throw out that mercenary view!) Helping others makes sense – it helps you get your name out there more, and people remember with gratitude those who have freely given their time to help. Plus it makes you feel wonderful!
* But set your boundaries. I know new doulas may feel desperate to get clients, but you need to set healthy boundaries. I've done births for free in special circumstances when I was certifying, but that is when I determined (with discussion with my husband) that we felt it was appropriate and a way we can give. I do advise new doulas to charge a fee for their service, as you are doing this work with a very real cost to your family and self. (More on doula fees later.) You have to determine how long you can be away from your family, how long you can be on that call, how much time you can spend answering emails. Set and stick to your boundaries or you will burn out.
* Get your name out there – list on the doula referral sites, create a great Facebook page and business website, volunteer! Find local birth groups and be a contributor – don't just join to market yourself, as some groups forbid that and you'll quickly get banned. Go with the intent to truly help and connect, not to pick up clients. Yes, leaving your card at businesses (birth centers, massage therapist, OB, chiropractor, etc) can be helpful but you may be one card among dozens of options. Having someone at that business vouch for you – hand your card to a client and say, "Call this doula!" is what will get you contacted.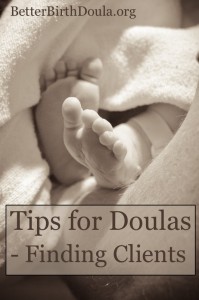 It takes time. To create a network, to get referrals, to develop a trusting relationship with people so that they are comfortable sending potential clients to you. Be an active and helpful presence in your birth community – connect with other birth professionals, parents, and your community in general. I am honored by each personal referral I receive because it means someone thinks highly enough of me to share my name with someone they care about. I have clients currently who received my name from their care provider, but I've known those care providers personally and professionally for YEARS. I certified last year and just received my first referral from one care provider in particular… now that she's worked alongside me at a birth and gotten feedback from her clients about me. I'm honored she shared my name! So be patient. Keep trying and reaching out and serving and be patient. You will be found by the families who will most benefit from having YOU at their birth.
Update: It's been 9 months since I wrote this and as I reflect on it I realize how much I've seen this come to pass. I've continued to be blessed by a wonderful birth community in our area, I now am excited to be a founding chapter leader for our Denton County Birth Network, and I'm receiving more and more referrals from care providers and other birth professionals in our community. I'm incredibly thankful to be in a position of needing to refer parents to other doula options as I'm already scheduled for the next six months. I'm also trying to not ever take this for granted, as being a doula is an enormous honor. When I'm not able to serve a family I have connected with doulas I know well and trust to provide fantastic support to families.
So to reiterate all the advice I gave above – do what you love, love what you do, seek opportunities to connect and serve, set healthy boundaries, and be patient!
Update II: It's been just over two years since I began my certification process and I looked back over my database. While during that first year I received a good number of clients from my online presence (website, FB page, doula search sites) those numbers have changed dramatically. I still receive a lot of contacts through those resources, but because I'm limiting how many clients I take I am more inclined to accept a client I receive through a personal referral. Of all my births now, only 9% were from someone who contacted me after finding me online. It's higher if I add in people I met through other online forums (ICAN, FB groups, etc) which is 35% of the people I've worked with in the last couple years. Those are women I had a relationship with prior to being hired as their doula because of those online groups, though we may not have met in real life. Which means 65% of the clients I've worked with were from personal referrals (friends, other doulas, OBs, midwives, etc) or someone I met in real life (park dates, childbirth class, etc) who then asked me to attend their birth. Unfortunately I am still turning down more people than I accept as clients, which is harder when they were personally referred to me – and I try to help connect them with other options. I feel very fortunate that more care providers (OBs, midwives) are giving out my name specifically to their clients – that is a huge compliment, and something I'm grateful to have received as I work to build a great relationship with them.