Just for fun (and not to freak you out) here are the tips for how to handle a sudden delivery. (The Birth Partner by Penny Simkin.) Though I disagree with some of these tips so I'll tell you where I'm editing.
- If mom says baby is coming now, BELIEVE HER. (Haha! But true, I told them the baby was coming…

)
- Remain calm, or at least fake it.
- Get help from whomever is near (paramedics, neighbors, children!)
- Turn up the heat in the car or at home (send someone else to do that, don't leave mom.)
- Gather towels, blankets, or warm clothes for the baby.
- Find a bowl, paper towels, and a plastic bag for the placenta. (No, this is something you send someone else to do after the baby comes. Don't leave mom to find a bowl!)
- Reassure the mother.
- Help the mother breathe through contractions, tell her to blow or pant and to not bear down if she can stall. (HA!)
- Help mom lay down on her side or recline, this may help slow things (vs. squatting or standing) and you don't want her standing up when the baby comes! (Yes, I've had friends going so fast they were standing and had to try to sit down and a baby shot out as they sat. Not just once but twice I've heard that birth story, once mom was alone, once mom was sitting into a tub with a care team there.)
- Get ready to catch! Ideally wash your hands first but if you're in a car just do what you can (hand sanitizer?) Or if mom is coherent enough, encourage her to reach down and help catch. Have something warm to immediately wrap them both in. New babies are slippery, be careful.
- As the baby is emerging and if you were able to wash your hands you can gently hold pressure against the perineum as the baby's head is emerging but really, you're probably going to be freaking out and it's going to be going too fast to think about that.
- Gently wipe the baby's face (mouth/nose) if anything is over it and place onto mom's chest, skin to skin. If they are wet they will chill quickly so gently wipe down.
- If baby is not breathing/crying then rub the back and try to stimulate them. Do not lay baby on their back, side or stomach is better so they can clear airway.
The placenta will take about 15 to 30 minutes to deliver so don't worry about cutting the cord until someone (midwife, 911, etc) arrives and can clamp it. If you're far away and waiting on help then encourage mother to have baby latch on if cord is long enough. If the placenta is delivered (do NOT pull on cord or attempt to get it to come out, just let it be) then place into bowl, bag, or onto towel and keep near baby. If you're still waiting for help then check mother's uterus, it should feel like a hard grapefruit below her navel. If it's not noticeable and is still squishy/soft then encourage her to latch baby on and gently massage her uterus to help it contract. (But this is only if you're concerned about excess bleeding and still waiting for that help!)
So, if you're concerned about an emergency home or car delivery things you may want to have on hand:
- a bowl or gallon size bag for the placenta (that's really only if you're so far away no one can get to you in 15 minutes)
- Depends for after (also good in general for when your water breaks)
- chux or waterproof changing pad (so you don't trash your car/bed/whatever you are birthing)
- a towel that you launder, dry on hot then store in gallon size bag (for wrapping baby)
- a newborn size hat to cover that tiny head
- gloves
- hand sanitizer
- a camera for proof that this really did happen!
I personally only know two people that delivered in the car, though I do know two that had babies at home alone on accident. I won't tell you how many stories I've heard second hand of women waking up in labor and it going so fast they didn't have time to go anywhere or even get their midwife there if it was a planned homebirth. They just had those babies pop out! Which depending on your perspective could be very traumatic or very cool!
Update, a third doula I know just caught a baby due to precipitous labor, I'm reviewing these guidelines! Here are the ones from the Department of Defense:
EMERGENCY CHILDBIRTH
What to Do
1. Let nature be your best helper. Childbirth is a very natural act.
2. At first signs of labor assign the best qualified person to remain with mother.
3. Be calm; reassure mother.
4. Place mother and attendant in the most protected place in the shelter.
5. Keep children and others away.
6. Keep hands as clean as possible
7. Keep hands away from birth canal
8. See the baby breathes well.
9. Place the baby face down across the mother's abdomen.
10. Keep baby warm.
11. Wrap afterbirth with baby.
12. Keep baby with mother constantly.
13. Make mother as comfortable as possible.
14. Identify baby.
What Not to Do
1. DO NOT hurry.
2. DO NOT pull on baby, let baby be born naturally.
3. DO NOT pull on the cord, let the placenta (afterbirth) come naturally.
4. DO NOT cut and tie the cord until the baby AND the afterbirth have been delivered.
5. DO NOT give medication.
DO NOT HURRY – LET NATURE TAKE HER COURSE.
From Midwife.org, a great printout for preparing to birth in place (or emergency!)
Update II: I decided to go ahead and follow the list to assemble an emergency childbirth kit. I like being prepared in hopes that I'll never actually run into an emergency – and a precipitous labor is not an emergency, it almost always means that the birth is going so perfectly that the baby is coming smoothly and quickly!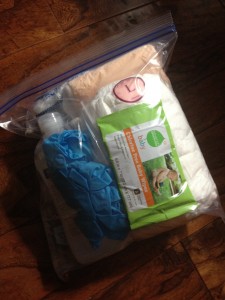 It's pretty basic – depends, chux pads, wipes, hand sanitizer, rubbing alcohol, bulb syringe, instant cold pad, gloves, and a cute little baby hat Emily is crocheting for me. Good to have in case of precipitous birth at home, car, garage, parking lot – all places I've heard of birth stories.