A very wise doula told me that when deciding how many clients to take in any given time period the births are logistically tricky due to timing and unknown length, but the real challenge is with scheduling all the necessary prenatal and postpartum visits. I now understand what she meant! With seven births in seven weeks (update: 5 of them came within 13 days!) I know I'll be gone at unpredictable times, but that also means I'm trying to fit in a LOT of other visits and I'm gone from my family several evenings/weekend mornings.
Generally a client contacts me by email and we'll send a few messages back and forth to cover basics (due date, care provider, location, etc) and we'll set up a time to chat on the phone. While they are trying to get a feel for me as a doula, I'm also trying to establish if this is a client I can work with based on logistics & more – do I have other clients due around the same time, any special family commitments, how far a drive is it, how does it "feel" to me? I take notes and suggest they talk with their partner and check out my website. I then sit down and talk with my husband to decide how I feel, and if this situation will work for our family. Sometimes it won't, and I have to let the client know I won't be able to serve them but I'll provide names for other doulas.
But if things will work then I am super excited, and I let them know I'm available! If they decide they want a consult then we'll set up a time to visit in person with their partner (ideally, it's not always feasible to coordinate schedules with their partner, especially if I'm a last minute hire.) I'll meet in their home, a local restaurant or park, library, etc – whatever is convenient for them. Consults for me usually run 30 minutes to an hour, depending on questions they have. I don't go into much depth during a consult – what services a doula generally offers, what special services I provide (what makes me unique), share a bit about me personally, why I became a doula, a tiny summary of my family/birth history, etc. If they have more in depth questions then I'll let them know that's something we'll cover during our prenatal visits, and I take notes to assure them I won't forget that question. (I take notes at every meeting, and let them know there's a confidentiality clause in my contract and I absolutely respect their privacy.)
Then I ask if they have questions and ask them if they've had a chance yet to talk with other doulas so they can find the best fit for them. At this point I let them know they can go home and talk about it further, but if they've already decided then I'm happy to begin the paperwork then, and I bring a print copy pull up my digital contract we can sign right on my phone! Often they say yes. Otherwise I explain that if they choose to hire me they'll let me know and I'll email them the contract which they return with half my fee as a deposit. If their birth is relatively soon we'll schedule our first prenatal visit and take care of the contract and deposit check then.
Because I've had several parents ask if they can hire me at the consult (or immediately afterwards) I've started to offer that option in advance. Once we've had a phone consult and they've looked through my website I'll explain – we can meet for a free consult and talk further, or if you're pretty sure already that you want to hire me we can schedule a consult/prenatal visit – we can talk more in depth and take care of the contract but you're not committed to hiring me until the end of our interview when you write that check. It saves them time as they're not having to coordinate a consult AND two prenatal visits, which is a challenge with their partner's schedule and busy lives. Especially if they're in the last couple months of their pregnancy then often moms are eager to begin the process and don't want to worry about scheduling several meetings. Sometimes it's a couple who has gotten my name from friends and already read through my website, or a couple from the childbirth class I teach so they are pretty confident they know they want to hire me. Other times if my schedule is already tight then moms may also want to quickly book me, as I let them know that spot in my schedule is not reserved for them until we've taken care of the contract and deposit. I don't ever want them to feel pressured to hire me, but at times I do have to decline clients because of other births and I try to let those who contact me first have the spot.
If the parents know they want to hire me before the first visit then I email them my paperwork for them to fill out and return to me send them a link to submit my intake forms online. This makes our visit much more efficient, and helps me get to know them in advance. But I want to be sure they are very comfortable with me so we'll do the entire prenatal visit and take care of the contract/check at the end. That way they always have the option to change their mind after they've met me in person, if they decide I'm not the right fit for them. And logistically if we schedule that first visit as a prenatal instead of the consult then it means one less visit to coordinate for me, too. Other times I've had parents say they already are sure, but I still prefer to meet them myself before they send in the contract & check!
As soon as a couple has let me know they want to hire me (after a phone or in person consult) then I send them a thank you message and attach my paperwork – birth intake form, birth history if they've had other children, and birth "hopes" worksheet that includes comfort techniques to discuss. They fill everything out and email it back to me before our visit link to those forms. Some of it is VERY personal, of course, so I suggest they fill out whatever they are comfortable with and we'll discuss the rest in person. I go through the paperwork and take notes for anything I have questions about. When we meet in person I have specific questions ready and I continue to take notes. I think this has been crucial in helping me be more efficient with visits, which saves time for everyone. I want some of our visit to be just a casual chance to get to know each other, but I also want to be respectful of their time.
My first prenatal visit (or consult/prenatal) is ideally done within the month that I am hired and it is often longest, around 2 hours. If I'm contacted by someone in their first trimester we'll do the consult and I'll pencil them into my schedule, but we wait until the second trimester to do our first prenatal, sign the contract, etc. This is when I'm learning more about them as a couple, their birth history, special concerns, questions, books they may want to borrow, their preparation thus far, why they want a doula, etc. I ask them to write up their birth "plan" (birth hopes) and discuss it with their care provider before we meet again. If possible we'll schedule our second prenatal visit right then and it's during their last month of pregnancy. The second visit generally runs shorter – closer to an hour, but much longer depending on any concerns. It's a chance to learn about how their care provider responded to the plan, any new/unresolved concerns, and we'll review when they need to call me in labor. The second half of my fee is due by 38 weeks gestation (and we specify a date in the contract) but parents will often write me the balance check at this second prenatal, or I let them know they can mail it to me by 38 weeks (which is when I go on call for them.)
If a client would like me to attend a doctor/midwife visit with them then depending on scheduling we'll coordinate our prenatal visit around that time. I'll meet them at their care provider's office just before their appointment and we'll talk while waiting, I'll come in to meet their care provider (though I'm generally a quiet presence and I don't ask questions – unless it's a care provider I know and then I always have questions!) Then we'll go somewhere afterwards to talk further – the women's library at the hospital, a restaurant, park, etc. If extended family will be attending the birth (like grandparents) then sometimes parents will ask to set up a prenatal visit at a time the other family can be present. (Update: Because I am attending births primarily in my own town I've met and worked with most of the care providers by now, and they refer clients to me. In these cases I generally don't attend a prenatal visit unless there's a special situation, but the parents are reassured knowing their care provider knows me by name and asks to work with me. Which of course is also hugely flattering for me!)
Because of my own travel restrictions at this time I have clients who live far away but are birthing in town. If they want to hire me in these situations I let them know we can schedule prenatal visits in town around their doctor/midwife visits, but I would not provide a postpartum visit in their home if they live very far away – I have a couple out of state clients. Sometimes I'll meet them at their pediatrician or care provider when they come in for check ups after the birth, or we'll stay in touch postpartum by phone or email.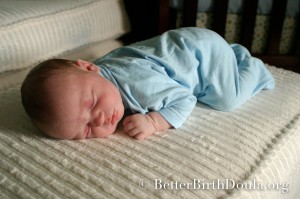 After the birth I try to text, email, or call parents within the first couple days. If there are any breastfeeding concerns then I'll provide a visit right away. Otherwise we'll schedule a time for the postpartum visit that's convenient for them – sometimes that first week, other times we'll wait until family has left town or their partner is returning to work and they need some extra support. Postpartum visit times vary widely – sometimes an hour, sometimes three hours. I want to check on how they are doing physically with healing, emotionally, logistically, if they're getting rest, if they need breastfeeding or baby wearing tips, etc. I provide the printed timeline of their baby's birth at this time. After our visit I'll email them again to say thank you, ask them for any feedback they would like to provide about my services, and provide links to some online sites where they can leave reviews of my services if they wish.
As far as photos, I try to upload images as soon as I get home and back them up. If it's daytime and I'm still coherent I'll edit the images they already approved (I check with the couple at the birth and show them one or two photos I would personally like to share – generally a baby shot and a mom-baby or family photo.) Those I try to email to the couple right away to share with family and I'll also post & tag them on Facebook if the couple wishes. Then I stop and give my family some concentrated attention! Once my kids are in bed then I'll go back through and edit the rest of the images, put them in the online gallery, and get those digital files to the parents. That can take me a week or more depending on how many photos there are, other births/meetings I have scheduled, and if my children go to bed on time.

Throughout the pregnancy and postpartum time I am always available by phone and email for parents to contact me with questions or updates. If they're borrowing books I may drop them by, if there's a special issue I'll race over to be with them through an ultrasound or doctor visit, and I let them know that's why I'm here – to provide support! But I've also found that as I'm more efficient with how I handle paperwork and consults and visits that things go more smoothly – we're able to cover more information faster, which lets us focus on any questions or special concerns in more depth. When parents take a childbirth class or are doing readings on their own I find we also have less to cover in our own visits, as they're incredibly well informed! This is why I ask in the beginning if they've signed up for a class (and I provide local suggestions) and ask what books they would like to borrow from my lending library.
I find that many questions are asked over and over, and in those cases I try to create resources to help. Parents want to know what to bring to the hospital/birth center so I send them a link to my packing lists. If they wonder about positioning I send them Penny Simkin's handout. Dad's wondering about how to best support his wife postpartum, here's Kit's great link. I'll always answer individual questions, of course! But rather than demonstrating a variety of positions for birth during our prenatal visit it's more efficient to give them a handout PDF to print out and review at their own convenience. I'll show them a few ideas on their birth ball and talk about good positioning during pregnancy, but Penny's article covers far more than I could.
I hope these ideas will help you in having meaningful but efficient visits with your doula clients. What ideas am I missing??

Update: Because I am limiting my clients and because of word of mouth I am booking out much further in advance these days – it's currently the end of August and I have clients through April next year. This means clients are calling me sometimes the day they get a positive home pregnancy test! That's changed a bit of the logistics. Now if it's a repeat client they may call and book me in their first trimester and we take care of the contract by email with the PDF, or in person when we get together for a playdate. I give them the option of paying their deposit at our first prenatal visit during their second trimester, but most take are of payment in their first trimester. They also submit their online paperwork to me at any time before our first prenatal visit. If it's a client I've not worked with before I'm happy to schedule a consult in the first trimester, then schedule the first prenatal in the second trimester. I've been asked by other doulas and parents how do I handle it if I'm booked in the first trimester and a family experiences a loss? I refund their deposit either in person when I go check on them or in a card and let them know I'm thinking of and praying for them. I debated if I should accept deposits in the first trimester at all but parents have said they feel better making that commitment so they can get on my schedule for sure, rather than waiting to pay me with the possibility of their being a loss. I let the parents decide whatever they are more comfortable doing.
I've also decided to NOT let someone hire me during the consultation or over the phone. I want the chance to go home after we've met and think about logistics and talk with my husband before I commit, just as I want the couple to talk further (without me present) rather than hiring me during the consultation. This just helps me be sure that it's the right fit and right situation for my family as well as for the clients' family. Because I can take care of the paperwork and contract digitally now it's less a concern than when I needed to take care of paperwork in person.
Because I'm also booked so far out there's less chance I'll have someone in a rush to hire me last minute and we'll need to condense visits. Unfortunately that means most couples waiting until their third trimester I have to refer onto other doulas, as at that point I would have already been booked for months and can't take them. I'm continuing to focus on my own city as well, which means less travel time for me AND more opportunities I have to get to know my clients through local parent meet ups, playdates, library visits, and meeting at the community market – which I love! It's now rare for me to visit in my community without having at least one or more babies present whose births I attended.

Unlike formal client visits, these gatherings give me a chance to get to know my clients and their families in a more casual context – and then afterwards to see these sweet babies growing up.