As I've sat down in consultations with more prospective clients I've heard some interesting comments about the doula selection process. I always encourage parents to talk with, and ideally meet in person, several doulas. Fortunately in our area there are so many options – literally over 160 in one of my D/FW groups. Every couple is going to have a different set of expectations and needs for their birth. While many doulas can work well with many clients, as a mom interviewing doulas for myself I really wanted to find the one that I felt was the best fit – someone my husband and I both clicked with. I read through at least a dozen websites, spoke on the phone with several doulas, then did in person interviews. Even after we found the right fit for us, we still finished up our other interviews to confirm our decision. But I'm a researcher – I like to know my options!
When talking on the phone with potential clients or meeting them in person I'll ask if they've had a chance yet to visit with other doulas. This lets me know where they are in the interview process (am I the first or fifth doula they've met?) and I ask them to let me know their decision either way. (If they've hired someone else I can go ahead and take them off my list to follow up with!) What's interesting to me is when they have met with someone already – sometimes they'll share names, other times they don't, but they'll often mention to me their reasoning behind where they're at in the decision process. I've had parents talk to me about other doulas' personalities, appearances, temperaments, and energy levels. It gives me a peek into what the parents are looking for in a doula.
Other times when I've encouraged parents to speak with other doulas they tell me no – they've already decided to hire me. In these cases I always reiterate – you have so many wonderful options, please don't feel you need to hire the first doula you speak with! Though I'm admittedly flattered when they reiterate that they've already spoken about this and decided I'm the right doula for them. Other times I've been hired by email and phone calls when we've not even met yet, and as a doula that can be tricky. Sometimes when meeting with a couple I may feel that I'm not the best fit for THEM, but I can't always make that decision based on an online or phone discussion. While I'm often hired during a consultation, sometimes I'll encourage them to discuss this after I've left so that I can also talk it over with my husband and determine if I feel good about saying yes.
I think in part I have couples wanting to hire me without meeting because they've read through my website or Facebook business page and feel that they already know me. Which is wonderful, from a business perspective! But as a doula I want to also make sure I get to know the couple to be sure I can meet their expectations and needs. When I say yes to a couple it's because I feel really, REALLY good about working with them. So many variables come into play in that decision – timing with other clients and family commitments, their distance, birth location, care provider (yes, that influences things!) as well as their hopes/expectations for the birth, and an overall sense that this is a situation in which I can serve this couple well. I don't have any hard and fast criteria – while I try to stay close to home, there are situations in which I felt strongly I should make an exception. While some hospitals may not be my favorites, I've worked in some knowing I felt great about the couple. Each doula is going to have different guidelines for how she decides, and it's something that we'll change with time and experience.
I'm not the right doula for every couple who contacts me. Many times I've had parents say they appreciate my calming personality, but another couple may prefer someone very high energy. I've been told over and over that clients like knowing I've had six babies of my own, and a variety of births. One couple hired me in part because of my out of hospital birth experience, another because I'm a VBAC mom, another because I had a cesarean, others for my high risk/preemie experience, some said they liked knowing I had an epidural as that helped them feel I wouldn't judge their decision if they opted for one. Absolutely our own birth experiences impact our doula work and influence if a couple hires us.
And a small aside, several times I've heard couples mention a doulas' appearance. Yes, how we present ourselves really does matter! Prospective clients notice and it is influencing their decisions.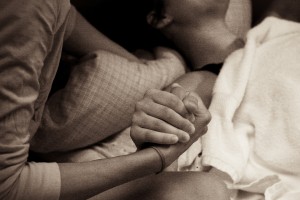 So as a doula my job is to work with a variety of clients with unique personalities and needs, and sometimes that requires me to really stretch outside my comfort zone. My temperament is more introverted, I'm quieter, I tend to observe rooms and group dynamics before speaking, and that may be the absolute wrong fit for some clients. I also tend to give people a large area of personal space – I don't often initiate hugs or physical touch with other adults. (My kids have no personal space – I spend my days in constant physical touch with my little ones as they follow me around and cuddle on me and I love that!) But I know in part due to my professional background (working with survivors of violence) I'm really, really cautious about respecting people's personal space and not touching them without permission. As a doula I need to offer a lot of hands on care! When working with doula clients I try to ask before touching them (not always feasible in labor) and I'll make suggestions – could I try some lower back pressure? Would you like me to massage your feet? I encourage them to tell me what feels good and what does NOT feel good and I promise them I'll listen and respond quickly to their feedback. (Sometimes moms will apologize in labor for feeling like they're snapping when asking us to not do something – it's labor, no apologies needed!!)
As a doula I've had to stretch outside my comfort zone and work to better read nonverbal cues from clients. There are times they desperately need to have physical reassurance and they cannot verbalize it, and I need to be aware of those cues and respond quickly. I don't ever, ever feel bothered when a client asks me to stop doing something, but I hate to think they may be needing touch and I've not offered it. I also give dads suggestions during birth – try a hip squeeze, here's a cold washcloth for her head, let's hold this rice pack on her lower back. Their partner's touch is going to offer an emotional and physical reassurance to a laboring woman.
So thoughts to consider as a doula: How do you present yourself to clients, in both appearance and temperament? What is your comfort level with touch? How can you better read your clients' needs as far as touch and reassurance in labor?
It's been thought provoking for me to consider, and I'm grateful to my clients who've patiently worked with me as I make my way on this doula journey!