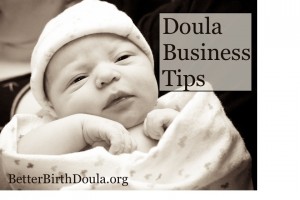 I'm watching this seminar and it's very thought provoking! Skip this post if you're not interested in the business stuff but helfpul ideas if you're a doula! (The video is great, the last 10 minutes is a sales pitch for their program so be warned.

) Three things in reverse order that doulas/childbirth professionals due to undermine their business efforts:

3. Don't do it alone. From just the business side of things, what's the most efficient use of your time to help your doula business grow? As I consider how I've gotten started, I realized some of the many people helping me are my husband (and web designer/tech guy/childcare provider while I'm on calls!) and my sister (photographer/designer) and my other sister (back up childcare) and our accountant (tax work and advice.) I'm learning from my certification program trainer and from other experienced doulas (also serving as back ups.) So many people are helping make this possible!
The video advises you have a business mentor/coach. I appreciated my posptartum doula program having a section on business plans and how to write my own. I also am grateful for financial advice from our accountant, and doula specific counsel from experienced doulas!
When you find someone you feel can mentor you, have an outline in your mind (or written down!) of what you want to discuss and invite them to lunch. Be efficient with their time and yours.
Support team – which I feel I absolutely have with my husband, sister-friends, and fellow doulas. I know I am not the point I need an assistant (as the video suggests) but that's in large part because I'm a very, VERY small company and my husband covers so much of the logistical stuff for me.

I also have found great support through the online doula groups in my community – they're an invaluable resource.
Network – which includes all of the above, plus more. Where do you advertise your business, who refers people to you, how connected are you? Are your cards in local birth centers and with midwives, do the OBs and midwives you work with speak highly of you and refer patients to you, do you attend childbirth classes to explain your services, what about chiropractors or massage therapists? Do former clients have some of your cards to pass onto their friends? Is your website and FB page user friendly with your contact info prominently displayed? What's your referral strategy to ensure your name is shared?
What's your selling speech? Do you have a script to share your services and sell yourself in 30 seconds? Do you have a brochure? When someone asks, "What's a doula?" can you explain clearly what you do and why it's something they would benefit from? Practice your sales pitch! Designate a time each week (for small businesses, more often for larger) when you are going to focus 100% on connections and business.
2. Self & service. Don't sell yourself or your service short! Value your time and your skills. While it is good to see what your fellow doulas are charging, that should not be the way you determine your own fee.
*YOUR TIME IS VALUABLE.*
You have invested a great deal of time and energy into your education and training and you have made sacrifices to become a doula. Do not undersell yourself! If you do not value your skills, why would your client? Here's my post on a doula's fee.
In any working profession there are designated business hours – what would they charge to be on call for 24 hours a day seven days a week for almost a month straight? (Two weeks prior to birth and two weeks past birth a doula cannot schedule other commitments as she's on call for that birth.)
When writing your business contract consider adding a small checkbox for services you offer and a space at the bottom to write in any special requests they have (if you agree to them!) so that there is no confusion as to what you will and will not provide as services. Examples of special services is an extra prenatal visit to attend an OB/midwife visit, extra postpartum care, Happiest Baby class, photography at birth, written birth story/timeline, etc. You may or may not charge extra for these services.
1. Reason most doulas/childbirth educators lose money – is this a hobby or is this a business? Something you do for fun and enrichment for yourself or something you do to provide a service that makes money? You can still ENJOY your business service, and provide it pro bono at times for a special service, but are you creating a hobby or business?
Businesses need:
- valuable products or services: do YOU value what you provide?
- sales/money: set a price people will be willing to pay but high enough to make it worth your sacrifice of time
- marketing/referrals to bring in clients
- your team: mentor, support staff, YOU!
You have to find a balance with all four in order to succeed as a business. If you are a hobby, you can leave out the sales/money part.

But as a doula if you are not taking in any money you will be losing money as there are expenses associated with your service (your own children's childcare expenses, travel costs, parking, food, ongoing education, paperwork & stamps, supplies for your doula bag, etc.) If this is a hobby be prepared to lose money – if it's a business you have the potential to cover your expenses and make money. (Though realistically, doulas do not make a lot of money! They do it because they love it.)
By treating your service as a business (instead of a hobby) then you are able to work with MORE families as your costs will be covered and you will better be able to market yourself. If you never charge, or charge too little, the costs will add up for yourself and your family and in the long run you won't be able to assist as many moms. Doulas and most birth professionals do this work because we want to help moms, but we need to charge enough to ensure we can continue our work. Each of us will provide our services sometimes for free or for cost (our gas/parking/childcare expenses) but if that's the norm it's not a business – it's a hobby we're spending our own money on.
As a doula you are a professional in the birth community with the goal of assisting individual mothers AND of helping facilitate change in the birth world. If you want to advocate for change you need to treat this as a business service and approach it as a professional with marketing and education and outreach. The more people you speak with, the more families you work with, the more influence you have for change. You can be a birth advocate AND be a profitable business and those goals are not mutually exclusive!
*Have as much passion for YOURSELF as you do for your clients.*
You are a trained professional with a passion for birth, and you may value things your clients do not and want to offer those extra services for free. TEACH people why these things are important and don't undersell them! Too often people realize the value of a doula only when they have a bad birth experience without a doula or when they've hired a doula and realized the difference she's made. Once they realize the benefits they will become your source of referrals and they also will begin to advocate for change.
(This is notes from the seminar but it's in my own words with my thoughts added – worth listening to the broadcast yourself!)