This is what my doula bag looks like NOW, but scroll down if you want to see what I assembled as a new doula in April 2011:
Here's my most recent version of the doula/photo bag combo: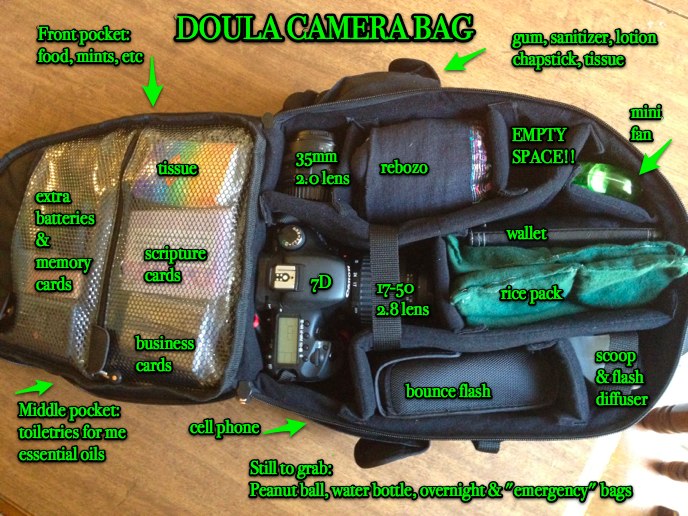 Update: I've seen added my back up camera body, a 50mm 1.4 lens, a different rice pack, a car charger for my camera batteries, and my new essential oils keychain. But otherwise it's pretty much the same!
Version One: This is what I made as a brand new doula!
Most of this stuff is not necessary at a birth, but I would rather be overly prepared than under prepared. It does all fit into one bag now, and without fail I have pulled stuff out at a birth and had someone comment on my bottomless Mary Poppins bag-o-tricks!
DOULA BACKPACK:
- copy of their birth plan (I've been called on the way to the hospital from a parent realizing they forgot their copy.)
- pens & notepaper, business cards – to write a birth timeline, notes (I now do this on my phone with a text app.)
- massage lotion & cooling peppermint leg gel (I have parents bring there own after several allergy concerns discussed in prenatal visits.)
- massagers (tennis ball, rolling ones, etc.) (I now have parents bring whatever their favorite is as I mostly use my hands!)
- trail bars & chocolate
- rebozo
- Vitamin Water
- ziplock bags in variety of sizes (instant ice pack, wrap in towel)
- Depends & chux pad (if her water breaks) (I have parents get their own now.)
- Yummy Earth lollipops & peppermint drops (good for nausea, no corn syrup in them), gum
- Colgate Wisp (disposable toothbrush if mom vomits and can't get up to rinse mouth) & mouthwash
- bendy straws (for her to drink while reclined – the hospital has them but they're in a locked room)
- spray bottle for cooling off mom
- peppermint and orange essential oils (I carry a DoTerra keychain with mini bottles.)
- cotton balls (to put essential oil drops on)
- hairband & barrette to get mom's hair out of her face while laboring
- handheld mirror (Hospital and birth center have these.)
- fan (handheld small one – great for cooling off mom)
- rice pack (with washable cover)
- small felt birdies I sew up for the new babies if I have a minute during longer labors (though my moms seem to be going too fast for that!) (These were fun but I no longer do them.)
- iPod and headphones (They bring their own.)
- LED flashlight on my keychain
- herbal bath mix to send home with them (We do at prenatal as moms have enough to keep tabs on at the birth.)
- Tiara! (Funny, but I don't carry these or medals anymore.)
- Gold medals
- small LED press light, in case things are dark for mom's comfort but we need some extra light
- a new chapstick for each mom – I'm so glad I had this for the most recent birth! Mom's lips were so chapped and I didn't want to dig through her bag to find hers.
- One doula keeps frozen cookie dough balls in the freezer and throws in a batch to bake as she gets ready to meet a laboring client. She gives them to the L&D nurses to help make sure that (a) they'll be nice to her client (b) they'll view doulas in a positive light.

Bribery. I left some cookies at the front desk of a birth I attended in the hospital, I had a nurse come find me to give me a hug and say thank you! (Update – did this again and it was a huge hit!)
Personal stuff for me in the doula bag:
wallet & change purse (nice to have if family members need snack from vending machine or if I do!)
water bottle
Coke (which I normally only use for migraines but good for emergencies or tired dads!) (I no longer carry, hospital and birth center has them.)
cell
chapstick & lotion (I wash hands a lot at a birth!)
hand sanitizer
snacks, Emergenc-C, Real Lemon
mini first aid kit
toothbrush, toothpaste, deoderant for those long births!
my doula jacket as those hospitals can be cold!
I will bring my camera bag (still and video cameras) because at most of the births I've been able to attend I did video and photograph when I wasn't needed otherwise and handed off the video camera to grandma or dad when the mom needed me.
MY PERSONAL BAG (left in car with breastpump):
change clothes
feminine hygiene stuff
MORE OPTIONS: (I've not done these.)
- yummy scented hand lotions in travel size to give to nurse
- lighter, in case mom wanted candles lit at her home birth so I don't have to dig through stuff to find them
This is what my bags looked like when I did my certification assignment: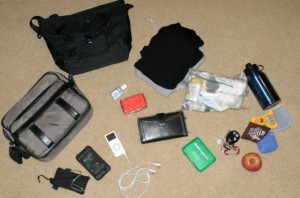 It sounds like a lot and I've played around with various bags but I can actually get my camera equipment, doula essentials, and personal items all into one bag (with my back up bag and breastpump left in the car in case I need them.) Here's what I've consolidated down to after a few births!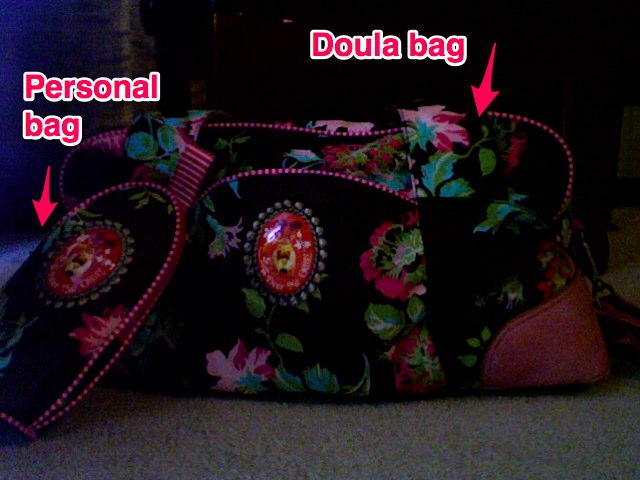 Version Two post here.
Version Three was the top black camera bag.

Much simpler, and now mostly camera equipment.