Originally posted August 2011, revised April 2013:
As I read some posts around the web about the breakdown of a doula's fee, I became curious about how my own time & financial investment works out. For parents there are so many costs associated with a birth, so I know for many families that a doula's fee begins to fee like a luxury they simply cannot afford. However, I have not yet met parents who did not say that hiring a doula was worth every penny and more!
I've written before about the benefits of a doula, which are incalculable, but how exactly does the doula's fee breakdown? It's important to remember that training fees are several hundreds to a thousand dollars and more for a doula to even get started. Most births for certification we offer for low fee or occasionally free, so expenses are coming from our own pocket as we get started. When we do begin charging we often ask less than the average fee as we build experience, so it can take many births before we even begin to recover our costs.
What sorts of fees and time are we talking about for attending a birth?
* Initial consultations (free) which run about an hour plus travel time. Within the metroplex it can be an hour ONE WAY to see clients, so a "free consultation" is 2 hours in the car and three hours away from family (which can include a sitter's fee.)
* Prenatal visits plus travel time.
* Email and phone support throughout pregnancy (and postpartum) to include research time for information and resources. This varies widely, but generally is at least 2 hours and can be up to a dozen hours!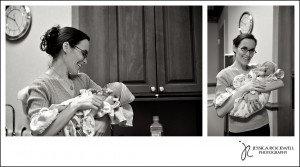 * Being on call for two weeks before/after mom's due date (four weeks total) and longer if mom is having any concerns like preterm labor. This means being prepared to walk out of any event or activity when the phone rings, with childcare on standby. It influences family trips, vacation time, how far a doula can travel, doctor visits and appointments for your own children, etc. I have to try and cram in a lot of things during my brief times off call as some appointments incur a fee if I cancel with less than 24 hours notice.
* Birth, which can go from a few hours to a couple days! Most doulas I've spoken with say their average birth time runs around 16-18 hours, with some lasting much longer. (After 24 hours awake I include in my contract the option for me to call in my back up so I can get a quick nap, as it's important that I be alert and coherent to help mom!) And if I do call in my back up I am paying them a generous hourly fee to give me time for a quick nap.
* Immediate postpartum time, generally 2 hours but longer if there are any special needs.
* Postpartum follow up call in first few days after the birth, and postpartum visit for breastfeeding assistance if needed. This can be as short as 15 minutes to check in but can be a couple hours if a visit is needed.
* Writing up birth timeline and birth letter, about 1 hour.
* Postpartum visit plus travel time. Again if there are any special concerns these can go much longer or I may offer additional visits.
* Additional costs for births: gas money for all of these visits, parking fees at certain hospitals, food for time at birth, convenience/take out food for family at home, babysitter fee for each of these visits, etc.
* Doula supplies for bag: lots of little things such as Depends, massage oil, essential oils, batteries for portable fan, power bars & drinks, rice packs, etc.
* Business supplies: website design & hosting, business cards, stamps & envelopes, print outs and folders for clients, cell phone, etc. Starting a business from scratch is a big financial investment!
* Perks for our clients that help save them money, such as my enormous lending library, the birth pool I provide free for clients to use (sorry, sold the tub – I no longer offer that!), herbal bath I make for clients, etc.
* Business costs: meeting with an accountant or attorney depending on business requirements in the area, filing self-employment taxes, filing for a DBA, etc. There's also costs for marketing, joining professional organizations, networking, etc. Again, these may be viewed as optional expenses but NOT having good financial and legal counsel can be incredibly expensive in the long run.
* On-going education for me, such as special seminars, trainings, and conferences related to our field. This helps us to better serve parents, but it's also additional expenses and I've spent literally hundreds of dollars on additional training as well as days away from my family traveling to and attending these workshops to make me a better doula and photographer.
* For those of us who provide extra services such as a licensed massage therapist (they've spent thousands of dollars and months to years training) or for me as a birth photographer, there are even more expenses: camera equipment such as professional bodies and a back up body, lenses, bounce flash, extra batteries, chargers, memory cards, a special bag (I've spent thousands), extra training, editing software (hundreds of dollars), computers to run that special software, back up hard drives so we never lose any images. I provide birth photography as a complimentary part of my doula package, but it's cost me thousands of dollars to provide that service. It's something I love, but it's a big investment in time and money for me!
* Recovering from a birth takes time for a doula, as we have to catch up on sleep which means we need our partner to miss work to care for kids or we need more childcare (another expense) and sometimes we need a couple days – or more – to recover, which means take out dinner.

I say this half in joking, but there is a very real recovery time after attending a birth and there are expenses associated with that transition time.
So aside from the costs of being a doula, a conservative estimate is that we invest approximately 30 hours per client – with a longer birth leading to 40 hours of time with a client or far more. (I've known some doulas who spent literally 40 hours at just the birth!) The rates for a certified doula in this area range from about $500 to $1000 or more. (Remember, that's our pre-taxed income – we don't actually make that amount! And all our business related expenses also come from that fee.) I'm in an area with a LOT of amazing doulas with a huge range of experience. In other areas of the country I hear of doula fees varying from $400 to over $2000, depending on the demand and availability.
When you consider that a doula is on call for approximately two weeks prior to a due date, coordinating her schedule and commitments around a birth, attending deliveries at all hours of the day and night to include missing holidays and family celebrations, you can see how much of a commitment is involved. Every single doula I've spoken with also attends a number of low cost births every year as a service in special circumstances and will also negotiate fees, bartering, or payment plans for families who are financially struggling.
So for parents, when you look at everything involved and consider the hours and effort invested you can see that a doula's fee is truly a bargain!! I hope this also helps you understand that while a doula is sympathetic to your other birth related expenses, we cannot offer every parent a discount. When we do provide our services at just cost (or free!) we are reserving that space in our calendar, meaning our own income is going to be less because we are unable to take another client during that time frame.
For doulas, I hope this helps you as you set your fee for services. There may be expenses you personally have that I have not factored in – please let me know what I've missed! It's important, especially as newer doulas, that we not undervalue our work. Your continuous care through pregnancy, the entire birth, and postpartum is enormously important to parents. It is something no one else provides! You are worth your fee.

Doulas do not do this work because we are making a lot of money – we do this work because we want so much to help parents have a better birth experience. Being a doula is truly a labor of love.